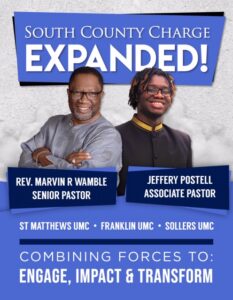 As most of you are aware, Pastoral appointments are made in May-June for the Church Year beginning July 1st. After much thought and prayer, Bishop LaTrelle Easterling and Rev. Dr. Rebecca Iannicelli have decided to appoint Pastor Jeffery Postell to be the Associate Pastor of the South County Charge, working with Reverend Marvin R. Wamble. This is a three-church charge.
Pastor Jeff has already announced this on his Facebook Page, so those of you on Facebook can wish him well there.
While we will miss him & Shay, I'm sure all of us at Solley will pray for Pastor Jeff as he continues his Faith Journey in this challenging new appointment. Pastor Jeff has brought new ideas and insights into our congregation. We have learned from him, and hope we have contributed to his insight as he serves his new charge.
Pastor Jeff will still be available for Pastoral needs until June 30th, .
Information regarding our new "Minister-in-Training" will be shared ASAP. If you have any other questions or concerns regarding this change, please feel free to contact me directly.
Best Wishes to Pastor Jeff & Shay as they continue on the path God has set for them,
Marcia Brannock
Solley UMC -SPRC Chair