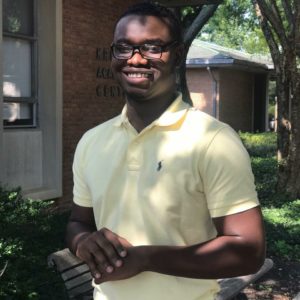 As a native of Montgomery, Alabama, Jeffery Postell is a graduate of Huntingdon College with a Bachelor of Arts in Christian Education. It was during his time here that he discerned a call to vocational ministry. This discernment process was nurtured and invested in by Co-Pastors, Elvyn and Bessie Hamilton through what was a developing United Methodist church plant then, now known as The Source UMC.
Initially, as an intern, and eventually, as a paid staff member, Jeffery served as a student pastor for over two years. This responsibility included, but was not limited to leading the youth and young adult ministry, guiding the worship ministry, and embracing many preaching opportunities.
In 2017, Jeffery relocated to Washington, D.C. to begin a new journey, seminary. He is now entering his second year at Wesley Theological Seminary as a candidate for his Masters of Divinity. Since relocating, Jeffery has also served as the Youth Pastor at Potomac UMC for a short period of time.
Jeffery views his call as a responsibility to facilitate the advancement of Dr. King's beloved community by reconnecting Jesus and Justice with love. Three core values that characterize his ministry would be prophetic preaching, radical hospitality, and strong community engagement.
As Pastor Postell begins his 2nd year with Solley, we look forward to our journey together!